FlickCall is an application that can make phone calls quickly flick.

Phone set to flick the phone number of vertical and horizontal directions.

Very simple, Quick, and your eyes Please use the iPhone if you want to call off the screen.


FlickCall comes in two versions.
・FlickCall:$0.99,ad-free,Display Name ON/OFF
・FlickCall FREE:unpaid,ad-suppported

Topix
Nov 19, 2010

・V1.02 Release
-Display Name ON/OFF

・FlickCall FREE V1.0 Release



Oct 10, 2010


V1.01 Release
bug fixed



Oct 01, 2010


Delivery start at AppStore
October 7, free from October 1(Download up to 10,000)



Sep 23, 2010


Pending

Spec
・Call quick Flick
・Phone Number Set:4
・Display Name ON/OFF

Help
Startup screen, you can below.
・Call
・Cancel
・Settings
■Easy Guide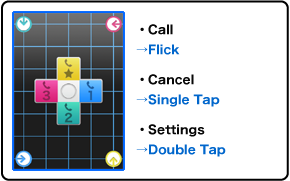 ※Can be operated in any position in the screen.
■More Guides
・Call
If you flick to the left, right, up and down, you can call the phone number key that corresponds to that direction.
―Correspondence key
 Up→★(
yellow
)key
 Right→1(
blue
)key
 Down→2(
green
)key
 Left→3(
red
)key
action:Flick
・Cancel
After the flick, about to make a phone call between a 1.5-second wait time is set, you can cancel.
action:Single Tap(Single Click)
・Settings
Settings View.
action:Double Tap(Double Click)
● Phone settings for
iPhone "Contacts" to use the registered phone number.


Other Localized Language
・Japanese

Contact Us Please send thoughts, opinions, and recommendations, etc. to App store.